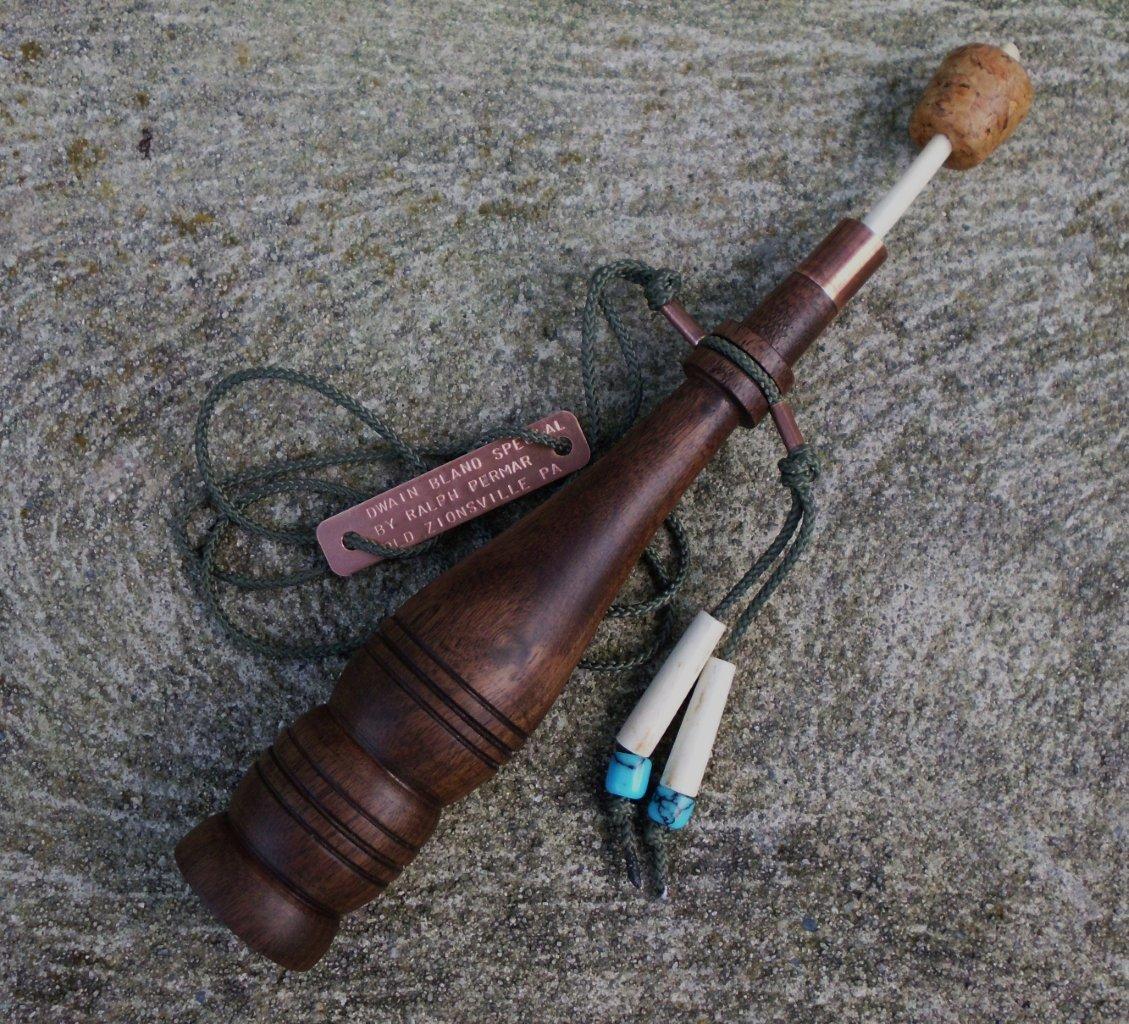 In 2002 I sent a two-piece Roanoke River Basin call to Dwain Bland.  Who replaced the call's fine hen bone with a gobbler bone and glued the pieces together, then went on to develop his own design for gobbler yelps.  In 2005 Dwain had two calls made out of Walnut that suited him.  One ended up in my hands.   To quote Dwain, "If Ralph likes my call, he can reproduce it, giving me credit is all the payment I want.   I'd just hope he'd give a handle with my last name".  This has been done.
I have scanned and compiled the content from four of Dwain's letters, to Larry Proffitt and himself, tracing the development of Dwain's design, and his remarks concerning the instrument.  The four letters have not been copied in their entirety, out of respect for the privacy of a genuine old turkey man who has gone on to his reward.
The old man liked to decorate his calls with paint, leather and beads. His original had  loose ends hanging from the lanyard, but no decoration, so I added beads. Dwain also put trap tags, with his name and address, on his calls.  I had my own version made up and included one on the  lanyard.  All calls are set with gobbler wing bone, and tuned to the same sound and response as Dwain's original.
Included with the call are a cover letter by myself and  Dwain's provenance.  Price $275
Terms:
I will notify you when your call is ready. After I receive your check I will send out the call. You have ten days, from the time it arrives, to decide if you would like to keep it or not. If not, return the call undamaged for a full refund.
R Permar Custom Calls LLC, provides original designs and interpretations of vintage turned barrel yelpers, to hunters and collectors.
Tom Turpin Award Winner 2004, 2005, 2008 and Jordan Award Winner 2009 
permar@ptd.net
PO Box 74
Old Zionsville PA 18068