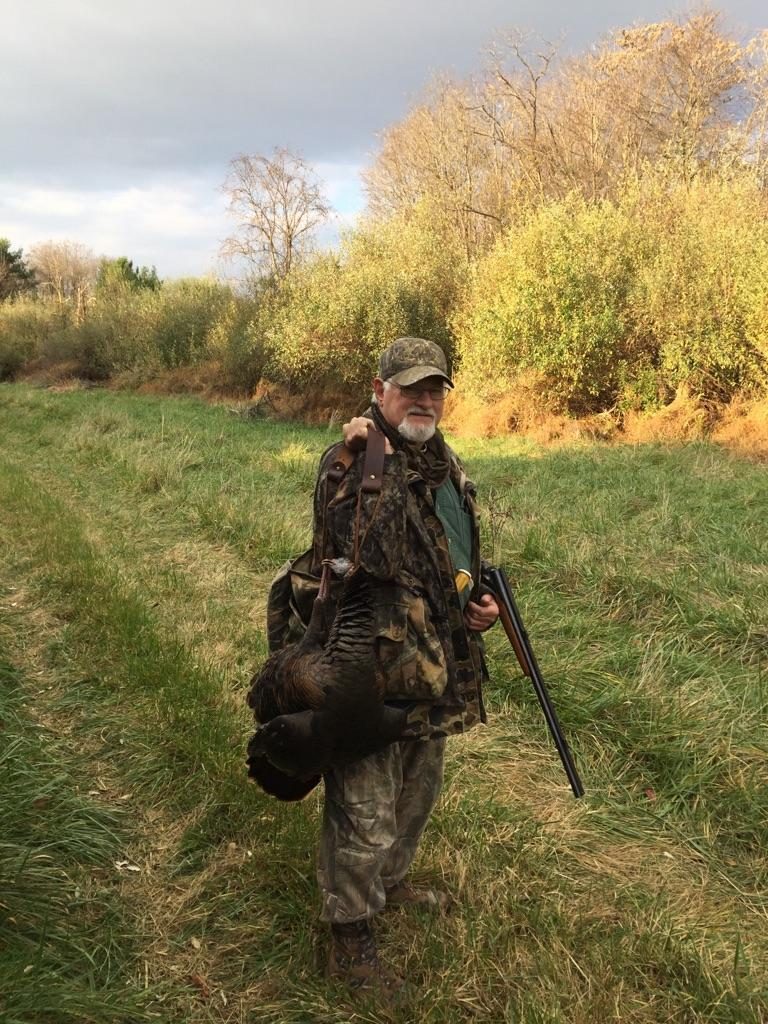 My early years were spent on my grandparents farm in Bucks Co. Pennsylvania. Too much freedom and a love of the outdoors always got me in trouble. My grandmother had the impossible job of keeping track of me while my Mom worked and Dad was away in the Navy during the Korean War.  I used the opportunity on many days to escape to the back creek. This upset Nanny because she could not catch me. In the end I would get it when Mom got home.  I had an old clothes line pole I always took along to the creek. It came in handy to probe places in the creek bank, harass snapping turtles, and then there was the day I bothered the copperhead. That pole got a lot of use!I believe I inherited my interest in hunting from my great-grandfather on my mother's side. Stories were passed down that he enjoyed hunting, nature in general and a good joke.  I was later to find out my Mom knew her way around a rifle.
There were two shotguns on the farm. They rested in a dark corner of the summer sunroom. A few paper shells rested on the high open fireplace mantle. One gun was a hammer gun, with Damascus barrels and cracked stock. The second, was a 12 gauge, hammerless, side by side Ithaca. Secretly I would swing that Ithaca around the room bringing down imaginary birds. Later I would learn about "lead".
One day after dad got home from the Navy, a cock pheasant wandered too close to the house and Dad used the Ithaca on him, out the back window. The pheasant was a heck of a lot better then spam.  As this was the extent of my Dad's hunting experience, hope was fading that I would learn to shoot.  However, when I was about 14, a school mate had a birthday party at our country community center. Being bored, I explored the dusty unused basement, where I discovered an indoor rifle range and a pile of old targets- some with my mothers name on them from her high school years. When asked, my Mom said she had been one of the better shots on her high school rifle team. They practiced at the community center. She helped me buy my first .22 rifle when I turned 15, and gave me a crash course in marksmanship.  I built a range in the farm meadow and was hell on rats, starlings and groundhogs.
At 16 years I bought my first hunting license, picked up the Ithaca and used the last of the paper shells to shoot a Hawaiian punch can off a fence post to get a feel of the gun- especially in my shoulder. I started hunting pheasants with little success.
I had a summer job after graduating from high school doing landscaping and tree work. Conversation usually turned to guns and hunting and I was invited on numerous dove hunts where I learned how to lead birds. My pheasant hunting improved. I pass shot ducks and geese, then made my own decoys and hunted the birds in field set ups.
I went to college in Iowa and each fall hunted the good populations of pheasants and rabbits there with a borrowed Browning A-5. During my last year of school I met my future wife, Linda, and traded the Ithaca for a new Remington 1100. Both the gun and my wife took a while to get used to. I shot that Remington for 20 years before trading it in, but I'm still married to the same girl.  After college I spent 3 1/2 years in the US Army, stationed in Japan, during that time I came home on leave, got married, and Linda joined me in Japan . We had a skeet range at the base. Browning 101's were the favorite guns. I did OK at the sport, just well enough to keep my reflexes and leads in shape.
Coming home, my wife and I decided to settle in South Eastern PA since job prospects seemed good there.  I started hunting pheasants again. At work I met another hunter.  He had property in North Central PA.  There I missed my first grouse and many thereafter. I also remember he said something about turkeys, I had never seen one.  I started hunting ducks and geese again. I had trap and skeet barrels for the Remington (this was before screw in factory chokes). One day while hunting geese, I bent over to pick up a goose and unknowingly jammed some mud in the end of my field barrel. On the next shot my friend said, "That shot sounded funny!" I looked, the muzzle had split back like three pieces of banana peel. As a second flock made a pass at the decoys, I shot two more birds with the barrel in that condition. After that I had a polychoke installed and the barrel shot excellent patterns.
Pheasant hunting in South Eastern PA started to decline in the mid seventies. I thought about hunting deer but could not get vacation at that time of year due to my low seniority at the plant. I read about turkey hunting. Since there were no birds in my area of PA, I had to travel. An uncle had a camp in Clearfield county PA and in 1976 invited me to hunt turkeys in the fall. I shot a fall gobbler with my new Tikka 12ga/.222, from the top of a rock which over looked a spring seep, where I had been waiting for two days. The bird appeared from nowhere. I knew turkeys had been digging in the seep from sign around it.  I was hooked. I read books, watched videos, attended seminars and went six years without shooting another bird. During the fall of 1982 I was introduced to an experienced turkey hunter from Montrose PA, and was able to hunt a few days with him each season for six or seven years. I will always be indebted to him for what I learned during that time in the turkey woods.
My  interest in call making history, along with interest in turkey hunting led to my desire to learn more about how these birds were hunted in the late 1800s and first half of the 1900's.  During study of that era's turkey hunting masters and their calls, I decided to make a suction type yelper.  Experimentation had me trying all kinds of materials, man-made and natural , also taking two night school courses in machining.  After some time the calls improved to the point where they would imitate the yelp of a hen turkey.  The people who most influenced my call making are Larry Proffitt for his mentoring skills, Earl Mickel, now deceased, for his encouragement, and Parker Whedon, also deceased, for his knowledge of turkey hunting, and vintage calls.  I had the honor of visiting with Parker and examining calls, first hand, that normally are only seen in books on the subject.
My ability has progressed to the point of making many different styles of yelpers, from my own original designs to interpretations of vintage yelpers. Most of these calls have turned barrels, custom mouthpieces, and brass ferrules stamped with the call's number on one side and my initials on the reverse.  The calls have  consecutive numbers according to style.  High quality of sound, ease of use, and low production not only make these calls great in the field, but also very collectable.
I live with my wife Linda and son Andy in Old Zionsville PA.