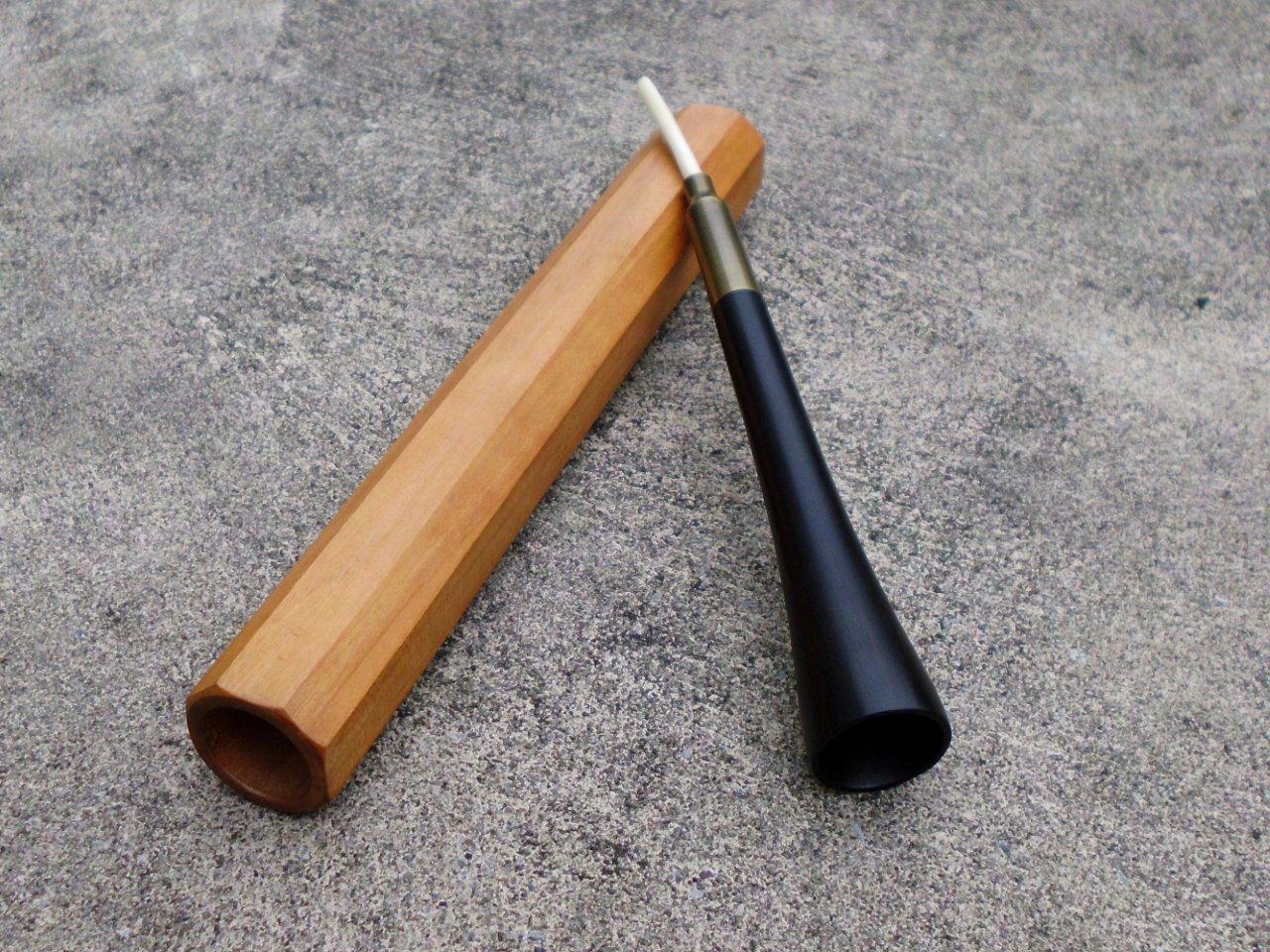 I have faithfully reproduced a Henry Davis style call in African Blackwood,  using Davis's own instructions from his book, The American Wild Turkey, and an actual size photo which belonged to Parker Whedon, recently deceased .  Davis made his call from Cocobolo.  After 70 years the Cocobolo turned nearly black, thus was chosen African Blackwood for this project
Davis suggested "A call of this description be carried in a wooden tube from which the mouth of the trumpet extends approximately 1/2″and the interior of the tube being sufficiently small to hold the call in place by friction.  Unless such a carrying tube is used, the mouthpiece will be sure to break off in the pocket".  I found the 9″ tube to be harder to make than the call since it has a blind hole 8 1/2″ deep perfectly centered between the eight flats.
After Mr. Davis's death Parker purchased the call and case from Davis's grandson and daughter. It was then sold by him in 2005 for $55,000, when in Parker's words," Necessity over ruled Sentimentality".  He needed a new roof on his home in Charlotte, NC.  The call was photographed along with Parker's autographed copy of Henry E. Davis's book by South Carolina Wildlife magazine for it's March/April, 1996, issue cover.  I had the opportunity to examine the call shortly before it's sale on one of my visits to Parker's home.  .   Call with Cherry case:   $350
Phone for quotes. Prices listed are only for calls pictured above and vary with type of materials used.
Terms:
I will notify you when your call is ready. After I receive your check I will send out the call. You have ten days, from the time it arrives, to decide if you would like to keep it or not. If not, return the call undamaged for a full refund.
R Permar Custom Calls LLC, provides original designs and interpretations of vintage turned barrel yelpers, to hunters and collectors.
Tom Turpin Award Winner 2004, 2005, 2008 and Jordan Award Winner 2009 
permar@ptd.net
PO Box 74
Old Zionsville PA 18068